First quarter of the decade sees record spectrum auctions
The new iteration of the PolicyTracker Spectrum Database (PSD) takes into account over 10,000 MHz of new or changed national spectrum assignments.
The COVID-19 pandemic may have put several imminent spectrum auctions on ice, but the first three months of 2020 had already seen an enormous amount of spectrum put under the hammer.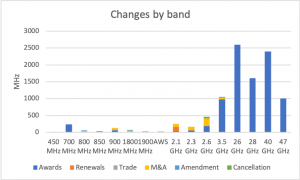 This included three mmWave auctions: the 37.6— 40 GHz and 47.2—48.2 GHz bands in the US, the 26 GHz band in Thailand and the 28 GHz band in Taiwan.
Below 6 GHz, 1550 MHz of spectrum has been awarded. This includes four awards of the 700 MHz band and the 3.5 GHz bands across six countries: China, Denmark, Hungary, Iceland, Taiwan and Thailand.
The US mmWave auction gained attention for the quantity of spectrum made available, but Taiwan's auction is also notable for the large prices paid for the 3.5 GHz band. Despite the regulator's attempts to calm the bidding, the band sold for the equivalent of $0.70/MHz/POP.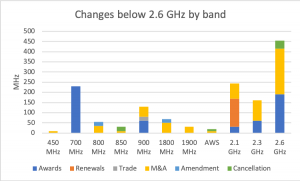 Although most of the changes to the database arose from awards, assignments for 932.8 MHz of spectrum were down to other factors, predominantly in bands below 2.6 GHz.
This includes a trade of 2 x 10 MHz in the 900 MHz band in Nigeria and Romania's renewal of 138.8 MHz of spectrum in the 2.1 GHz band. In Nepal, the 1800 MHz band was reshuffled to make space for a new licence holder.
Three mergers also completed in the first quarter of 2020: Vodafone Malta's sale to Monaco Telecom, Tele2 Russia's takeover by state-owned Rostelecom and the long-awaited merger of T-Mobile and Sprint in the US.
Over 60 per cent of the changes below the mmWaves were in Region 1 (Europe, Middle East, and Africa) but significant changes also took place in the rest of the world. When the mmWave awards are taken into account, Region 1 only accounts for 16 per cent of the changes, while the Americas account for 36 per cent and Asia-Pacific for 48 per cent.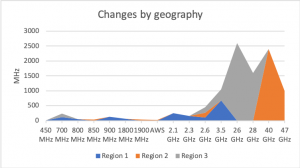 The PSD tracks changes to global spectrum allocations and assignments from auctions, beauty contests, renewals or the results of trades. It is updated quarterly and is available as part of our Spectrum Research Service.•
By Toby Youell