Bespoke research
Does your organisation need specifically researched information about a spectrum-related issue? PolicyTracker has unique experience of spectrum policy and management issues worldwide and our consulting arm can provide research tailored to meet your requirements.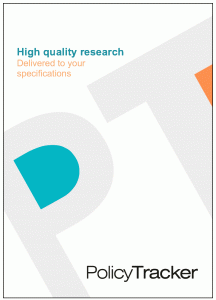 Why spend hours finding and decoding obscure documents when our researchers may have read them already? Why waste time seeking data for cross-country comparisons when we may have it to hand? PolicyTracker's research services can save you time and money. We are rigorous and impartial with skills based on decades of experience in analysing the sector. We offer a range of services to meet the needs of your organisation
:
Bespoke research for clients who commission a private report on spectrum or wireless network related issues crucial to their business.
Non-confidential reports such as white papers which the client(s) can distribute to interested parties and make available to PolicyTracker subscribers.
From big questions to small...we can help
Your brief may be a simple one and the end report just be a couple of pages, or it could be more complex requiring a much longer document: research needs come in all shapes and sizes and we are happy to address them all. Our recent research reports have covered the following topics:
Wireless spectrum evolution
Use of the 3 – 6 GHz bands for IMT
The second digital dividend (700 MHz)
Use of the 700MHz spectrum band in Thailand
A five-year outlook for LTE spectrum
Licensing models for 5G spectrum bands
Low-frequency spectrum for the IoT
Regional survey of new frequencies supported for IMT
Spectrum pricing and auctions
Spectrum valuation and pricing
Usage and pricing in 450 MHz
Auction strategies of major international telecom carriers
Spectrum sharing
Licensed shared access and dynamic sharing
TV whitespace
Wireless technologies & network evolution
5G network evolution strategies
What is 5G?
LTE broadcast
Mobile infrastructure sharing
International comparison of public WiFi services
Other
The future of terrestrial TV
Spectrum for intelligent transport systems
Developments in spectrum monitoring
Although we are providing a unique, niche-market service our prices are highly competitive with those of general telecoms research houses which do not have access to the same spectrum expertise. Our global clients for customised research include: mobile network operators, regulatory authorities, equipment vendors, vertical players such as automotive manufacturers, banks and investors.
To find out more
Please e-mail Martin Sims martin [@] policytracker.com or phone +44(0)20 7100 2875 for an initial discussion of your requirements.