Understanding Modern Spectrum Management training course
Our signature spectrum management training course, held at Oxford University from 14-17 September 2020 and in London in April 2021.
Organised in conjunction with LS telcom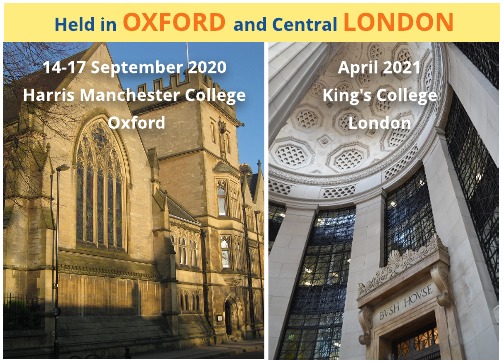 Download a brochure and further information
These course runs in April and September and will feature:
In-depth analysis of 5G
Focus on spectrum sharing
A thorough grounding in the radio spectrum and its application
Sessions from world experts including Professors Martin Cave and William Webb
Learn through practical experience: spectrum orienteering and mock spectrum auctions
In depth analysis of the latest economic and policy arguments
Upgraded accommodation at Harris Manchester College
Social events including a reception and a formal dinner
A chance to interact with colleagues from other countries and sectors
Comprehensive pack of learning materials
The aim of the course
Spectrum management requires knowledge of an unusually wide range of disciplines: engineering, economics, law, policy and regulation. It is also a field where accepted practices are changing rapidly. The increasing demand for spectrum fostered a growth in market- orientated approaches to spectrum management but the latest approaches lean more towards sharing as the dominant paradigm. This spectrum management training course delivers the essential technical foundations needed to support modern approaches while bringing attendees up to speed with the latest thinking in a range of other areas.
Who should attend?
The course is aimed at people who either work for regulators or a commercial organisation which needs to understand the principles of spectrum management. The programme is particularly relevant for the following fields: mobile; broadcasting; wireless broadband; electronics manufacturers; and public sector spectrum users such as aviation, maritime, emergency services and military.
The content is well suited to three groups of people:
staff wanting a solid grounding in all aspects of spectrum management
those experienced in one aspect of spectrum management seeking to broaden their knowledge
staff wanting to familiarise themselves with the latest thinking in the field
The benefits of the course
The course is not just an opportunity to learn; it is a unique opportunity to debate the latest thinking with world-renowned experts who helped develop the central principles of modern spectrum management. Further benefits include:
A chance to share experiences with colleagues from other countries
Comprehensive reading pack included
Social events reflecting the unique surroundings
Ideal learning environments:
Certificate on completion of the course
Feedback from previous courses:
"I rank the seminar as one of the best I have ever attended"
"I particularly enjoyed the transmitter location exercise"
"The course was very well planned with good speakers in a very nice surrounding"
"Technical part was superb, in depth but still understandable (even for a lawyer!)"
"The course was very interactive and many experiences were shared between students & sages!"
"Relaxed atmosphere encouraged discussion"
"The discussion on the transition from the command and control approach towards the market driven approach was particularly enriching"
"The technical content was very well thought out and pitched at the appropriate level. "
"Interesting discussions amongst the delegates, different point of views"
Price
The standard price for the London course is £2245 + VAT and includes lunch but not accommodation.
The Oxford course includes bed and board in the historic surroundings of Harris Manchester College  and costs £2895 + VAT.
There is an early bird discount of £250 for delegates booking six weeks in advance. Also employees of non-UK governments do not have to pay VAT.
Full details are on the booking form on the back page of the course brochure.
Booking your place
You can register online for this course or book your place by calling us on +44 (0)20 7100 2875.
Class size is limited to a maximum of 20.
The course organisers
The course is being run by LS telcom and PT Publishing.
PT Publishing produces PolicyTracker, the journal of spectrum management as well as the Spectrum Research Service, business reports and bespoke research.
LS telcom is a worldwide market leader in the provision of strategic and technical consulting; training on technologies, regulation and policy; automated spectrum management and monitoring systems; and planning and optimisation software.