5G: where is the boundary between experimental and commercial?
PolicyTracker classifies 5G bands as first tier, second tier, third tier and experimental based on the likely deployment timescale, within five years being the quickest. Today we are concentrating on the experimental category.
The enormous practical difficulties of providing services even in the lower reaches of mmWave were highlighted this week when Deutsche Telekom said the current business case for 26 GHz "doesn't work at all".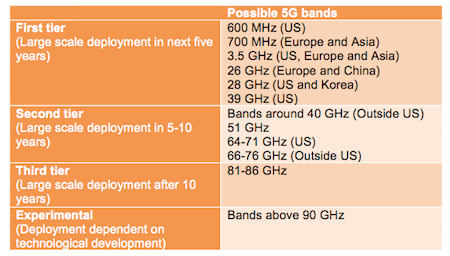 The higher frequencies are even more commercially challenging. ZTE regards 70-80 GHz as the lowest priority and doesn't even consider bands above this.
There is little opposition to the use of bands in the 80-90 GHz range for 5G but this is because the band is sparsely used compared to candidate bands in the lower ranges. A lack of opposition does not mean commercial enthusiasm and this becomes more obvious as we move up to 90-100 GHz and beyond 100 GHz. Leading players like BT and Telefonica regard these bands as  inherently unsuitable; Samsung is distinctly lukewarm and Ericsson sees 5G backhaul as the main use case.
On the other hand, research into bands above 90 GHz should be encouraged and here the US is a leader.  Funding the research is relatively cheap and it may lead to lucrative new services. But we must remember these are very long term initiatives – any commercial deployment is at least 10 years away.
Research Notes
80-90 GHz by Patrick Gahan
81-86 GHz is likely to be identified as a future 5G band – it is being studied by the ITU and has been proposed for release in the USA.
90-100 GHz by Patrick Gahan
A limited number of stakeholders support further research in this band with several proposals to ease regulation to stimulate innovation
100-200 GHz by Patrick Gahan
There is some interest in deploying 5G in these bands but work in this area is at an experimental stage.
Brazil by Jonathan Watson
The Brazilian regulator is one of many worldwide to have launched a consultation on using the 3.5 GHz band for…
Auction Tracker updates
Canada 600 MHz by admin
Innovation, Science and Economic Development (ISED) October 11, 2017: The ISED released a consultation on licensing the 600 MHz band…
Multi-band Residual Lots Auction in Australia by Patrick Gahan
Australian Communications and Media Authority (ACMA) 09 October 2017: The ACMA has confirmed that the Multi-band Residual Lots Auction will…
Turkey 800 MHz, 900 MHz, 1800 MHz, 2100 MHz, and 2600 MHz bands auction by admin
Ministry of Transport and Communications Update: August 30, 2015
This auction has concluded.
Sweden 2.8 GHz by Patrick Gahan
Swedish Post and Telecom Agency (PTS) September 26, 2017: Plans to auction this band have been cancelled,
Uruguay 700 MHz, AWS and 2.1 GHz auction by Patrick Gahan
Communications Services Regulatory Unit (URSEC) 15 Aug 2017 Uruguay's Communications Services Regulatory Unit (URSEC) has released the results of the 700…
News articles
Deutsche Telekom not yet clear on cost of 3.4-3.8 GHz 5G networks by Kane Mumford
Further trials in the 3.7 GHz band in Germany are on the way, says chief technology and innovation officer Claudia…
Will Indian spectrum mega-auction excite cash-strapped operators? by Dugie Standeford
The Indian regulator is planning an auction of spectrum in nine bands. Given the mobile industry's current "cash crunch", such…
EU's RSPG could recommend new PMSE bands after 2020 by Kane Mumford
Franz Ziegelwanger of Austrian regulator RTR, who is leading the RSPG's work on spectrum for programme making and special events (PMSE),…
FCC commissioner suggests defunding ITU by Kane Mumford
Top US regulator Michael O'Rielly has said that the US should have a larger role in the leadership of the…
Operators call for more involvement in RSPG peer reviews by Kane Mumford
Senior representatives from Deutsche Telekom and Vodafone called on the European Commission's radio spectrum advisory body to open up peer…