Direct assignment continues to be a popular spectrum award method
The latest update of the PolicyTracker spectrum database shows that direct assignments continue to be a popular way of assigning spectrum globally.
The database shows that in the past three months, a total of five countries have chosen to forego an auction procedure and instead assign spectrum directly. This makes up half of the total new entries.
Direct assignments took place in Nigeria, which awarded the 2.6 GHz band; Kosovo, which awarded the 800 MHz and 3.5 GHz band; and in Egypt, Liechtenstein and Iceland, all of whom awarded spectrum in a variety of bands.
Measured as a percentage of bandwidth, 63 per cent of recently assigned spectrum was awarded in a direct assignment rather than an auction award. This is out of a total of 1848.4 MHz.
Although auctions are generally considered to be the "gold standard" for spectrum assignment procedures, our latest database update shows that some countries still prefer assigning spectrum directly to operators.
In total, in the previous quarter the PolicyTracker spectrum database has recorded nearly 3000 MHz of spectrum awarded across 10 countries. The type of spectrum band assigned varies widely. However, mid-band spectrum bands were the most popular, with both the 3.3—3.8 GHz and 2.6 GHz bands assigned in five countries. The 800 MHz, 1900 MHz and 2.1 GHz bands were assigned in four countries.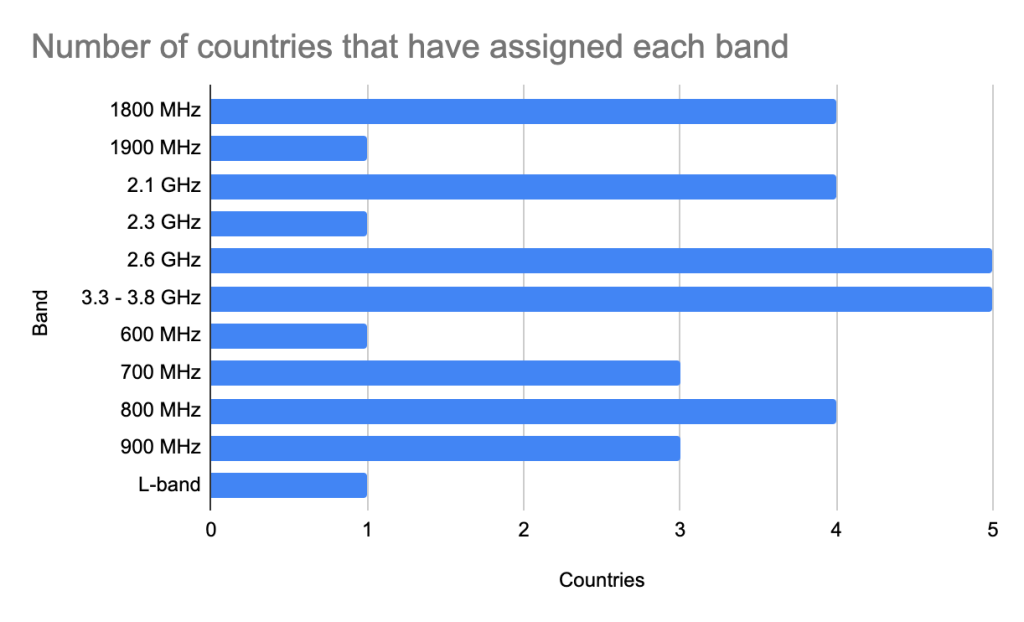 Various other updates and improvements were also made to existing entries in the database, including the renaming of licences following the completion of the recent merger between True and DTAC in Thailand.
The PolicyTracker Spectrum Database tracks allocations, assignments and prices paid for spectrum. It is available in Google Sheets, as an Excel document, and on our website. It is updated quarterly and is available as part of the Spectrum Research Service.
Newsletter
Discover why hundreds of regulators and technology companies use our services
SUBSCRIBE
The Spectrum Policy Podcast
Where experts debate the issues.