Europe's 5G spectrum auctions: buy now, pay later
Mobile operators spend a lot of money at spectrum auctions. That's been the case for many years.
It's no surprise that they're not happy about this. They frequently complain about governments and regulators demanding too high a price when selling the airwaves. They say this reduces the funds available for investment. It also holds back the quality, speed and reach of mobile broadband.
Being forced to pay these huge amounts upfront makes life even more difficult. And on this issue, in Europe at least, the licensing authorities seem to be listening. Increasingly, operators are being allowed to pay for their spectrum licences in instalments.
Half of the 5G pioneer band auctions recently held in Europe have allowed payments to be made in instalments rather than upfront (see the table below for a few examples or click here for the detailed breakdown).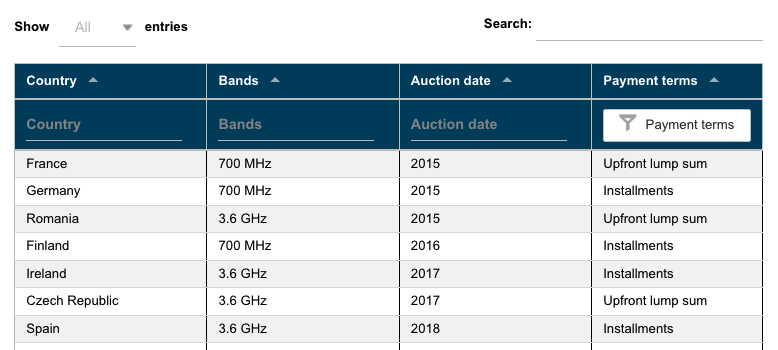 Getting hold of spectrum licences in Europe is becoming a case of buy now, pay later.
The logic is that spreading licence payments across several years enables operators to manage their cash flow and other investments better. This makes it easier for them to invest in infrastructure and affordable services.
A Research Note on this phenomenon has just been added to our Spectrum Research Service. Subscribers to the Service can read it here.