The 6 GHz band is set to be one of the hottest of the hot topics in the run-up to WRC-23.
As our updated 6 GHz benchmark shows, many countries are waiting on decisions due to be taken at the conference before defining licensed or unlicensed policies for the upper 6 GHz range (6425—7125 MHz).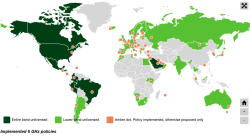 The upper 6 GHz band will be considered at WRC-23 for identification for IMT (6425—7025 MHz is being considered for "IMT identification" in ITU-R Region 1 only, while 7025—7125 MHz is being considered globally).
Such an identification would send a strong signal that the band is being prioritised for higher-power licensed mobile use. UK regulator Ofcom favours "no change" at WRC-23. Europe's technical agency CEPT hasn't finalised its position yet.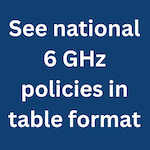 Nonetheless, the pending WRC is not stopping selected regulators, notably in the Americas and the Middle East, from opening the full band for unlicensed use.
The benchmark also highlights the broad range of regulatory instruments that are being used to implement unlicensed 6 GHz policies. Administrations might make decisions specific to 6 GHz, or update their country's frequency allocation table, or simply amend their short-range device/licence-exempt equipment regulations.
More information is available in PolicyTracker's updated 6 GHz band benchmark, available as part of the Spectrum Research Service.•