WRC-19 report updated: areas of agreement and unresolved issues
With four months to go until WRC-19, where do we stand now? What has happened since the report we published last year?
The ITU World Radiocommunication Conferences (WRCs) are hugely important. They set the pattern for how spectrum will be used globally. The WRC-19 agenda, for example, includes choosing the bands for mmWave 5G.
The world's regional spectrum management groups are preparing for their final round of decision making on their common positions. At stake is the Radio Regulations, the document that governs the international use of spectrum. This can only be amended every three or four years at a WRC.
Last year, we released the Countdown to WRC-19 Report, which explained the agenda items and took stock of global preparations for the meetings.
The regional groups have been meeting regularly since 2015 when the last WRC was held, but now there is much more clarity regarding each agenda item's technical and political aspects.
Technical aspects have been crystallised in the CPM Report, which was finalised in Geneva in February, while the political aspects have developed through a series of national and regional meetings, as well as inter-regional workshops.
This year we have produced the updated WRC-19 Briefing, which provides updated information on each of the 30+ agenda items' technical and political aspects.
Last year's report found, among other things, that the agenda item concerning mmWave spectrum for 5G was attracting a great deal of discussion. It was clear then that the 26 GHz band was the most promising but that the avoidance of interference to earth observation satellites was a major source of contention.
This year, national and regional negotiating positions on this issue are much clearer, while much more sophisticated positions have been developed for other frequencies, including the 66—71 GHz band.
Beyond 5G, there are also clear dividing lines developing regarding the other items. Some of these, such as Earth Stations in Motion in the Ka-Band, were predicted last year, but others, such as IMT at 2.1 GHz/S-Band, and 5G at 4.9 GHz, have been subject to intense and unexpected attention.
Last year, the CPM's studies were not complete, so countries' positions were based on public policy priorities and/or preliminary studies. The CPM Report provides more clarity on the technical facts regarding agenda items this year, but consensus eludes delegates when countries interpret these results differently.
In other purely political situations, the technical facts are uncontroversial but countries still disagree because their public policy approaches are different. The worst prospects for consensus exist where delegates disagree on both the technical and political levels.
Based on interviews with key stakeholders and intensive analysis of key documents, we have identified the items with the best and worst prospects for consensus from both the technical and political angle. These findings are summarised here: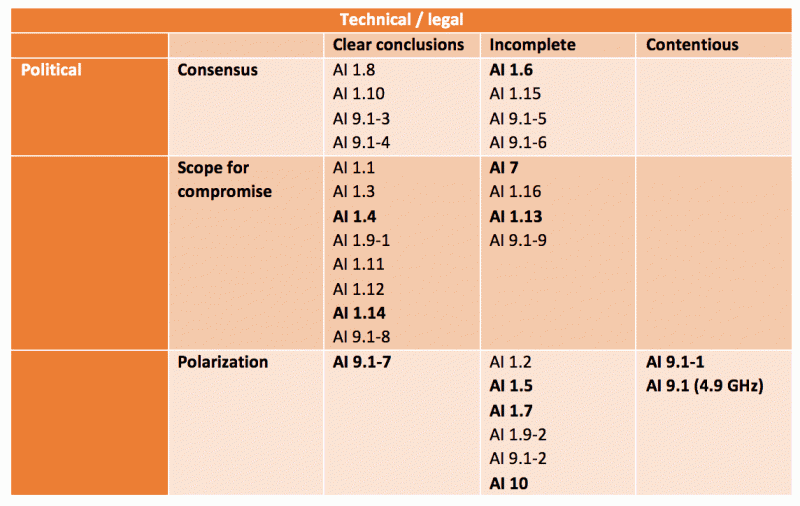 As WRC-19 grinds on over four weeks, delegates working on a particular agenda item are likely to find their own discussions suddenly dependent on an apparently unrelated issue. By providing an overall guide to the conference, we hope the WRC-19 Briefing can provide a holistic understanding of all the issues at stake.
The Report is available to Spectrum Research Service subscribers or on a standalone basis for £999.