Webinar on 3 February: getting the EMF message across
Who should we use to publicise messages about EMF? Scientists, engineers or… comedians?
Scientists at the World Health Organisation tell us that mobile phones carry no known health risk as long as emission limits are observed. Engineers at regulators and operators check that those limits are followed.
But is a science-led approach the best way to convince the public? It has certainly been the dominant method so far but the rise of conspiracy theories linking 5G with COVID-19 suggest that the strategy has its limitations.
Our 3 February webinar, EMF: getting the message across, will consider why the conspiracy theorists have gained traction, how other industries have responded to health scares and what are examples of best practice.
Which brings us to comedians. You wouldn't use the company CTO to promote an all-you-can-eat data package—it's hardly likely to touch an emotional chord.
Operators use actors, celebrities, cartoons and lots of humour: perhaps it's time to apply the same creative thinking to EMF. In Australia, Telstra is leading the way with a Twitter campaign featuring the comedian Mark Humphries: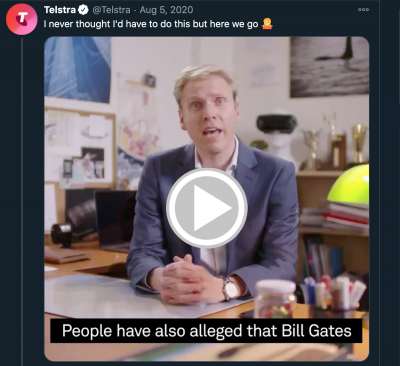 The webinar will feature contributions from the following speakers, with plenty of opportunities to ask questions:
Kyriakos Baxevanidis, deputy head of the spectrum policy unit at CNECT, which is part of the European Commission.
Dr Mary Longhurst, a public relations and strategic communications expert who specialises in corporate social responsibility and sustainability communications.
Dr Jack Rowley, senior director research & sustainability at mobile industry association GSMA.
Frank de Vocht, Professor in epidemiology and public health, Bristol Medical School, University of Bristol.
Martin Fenton, Director of Spectrum Analysis, UK regulator Ofcom
We'll also have a prerecorded interview with Nicky Preston, Vodafone NZ senior communications lead.
Please join us for EMF: getting the message across on Wednesday 3 February 2021 at 3 pm GMT/4 pm CET/10 am EST. Paid subscribers should use the priority registration form. Non-subscribers can also join by registering here.
If you're interested in speaking please get in touch.•