Time runs out for 900 MHz and 2.1 GHz
There will be a bonfire of the licences in 900 MHz and 2.1 GHz over the next two years, with over 80 expiring. Deciding whether to extend the terms or re-auction the licences will be a key question for many regulators over the coming months.
The 900 MHz and 2.1 GHz bands were awarded in Europe and other regions for 2G and 3G services respectively. Many of these licences were for 20 years and will be expiring soon.
According to the PolicyTracker Spectrum Database, 33 licences for the 900 MHz band will expire in the 2018 – 2020 timeframe while 54 licences for the 2.1 GHz band will run out during the same period.
Operators may need to win these auctions to continue offering 2G and 3G services, unless they also have licences and capacity in other 2G or 3G bands such as the 1800 MHz or 2.6 GHz bands. The prices discovered during these awards will reveal the operators' commitments to these services, or at least the use of the 900 MHz and 2.1 GHz bands to deliver the services.
Read our Research Notes for the bands here: 900 MHz, 2.1 GHz, 1800 MHz or 2.6 GHz . Pricing and expiry graphs can be accessed using the links in the right hand column.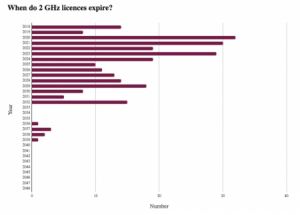 By Toby Youell