Our new podcast: Spectrum Policy 101
For nearly 20 years PolicyTracker has been examining the policy debates behind spectrum management but this year we set ourselves a new challenge. We wanted to introduce the subject to a general audience rather than solely addressing expert practitioners. The result is our Spectrum Policy 101 podcast. We interview a series of big names in the field, asking them to explain what spectrum management is, why it is important and…
For nearly 20 years PolicyTracker has been examining the policy debates behind spectrum management but this year we set ourselves a new challenge. We wanted to introduce the subject to a general audience rather than solely addressing expert practitioners.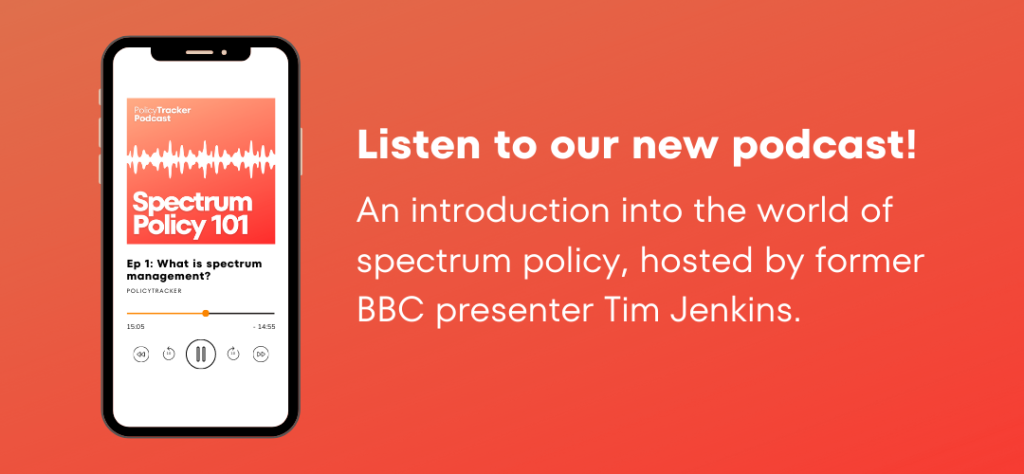 The result is our Spectrum Policy 101 podcast. We interview a series of big names in the field, asking them to explain what spectrum management is, why it is important and how it can bring the greatest social benefits.
Contributors include:
Professor Marc Raboy, author of Marconi : the man who networked the world
Peter Stuckmann, European Commission
Marja Matinmikko-Blue, University of Oulu
Ulrich Rehfuess, Nokia
Professor Gerard Pogorel
Professor Martin Cave
Richard Womersley, LS telcom
Professor Thomas Hazlett, former chief economist at the FCC
Professor William Webb, Access Partnership
It is hosted by Tim Jenkins, a former BBC World Service business news presenter.
If you already work in spectrum management we hope you will find some interesting reflections. If you know anyone who is new to the field, please share the link.
All the episodes are open-access and available on the leading podcasting platforms. You can also listen to the podcast on YouTube here.
Newsletter
Discover why hundreds of regulators and technology companies use our services
SUBSCRIBE
The Spectrum Policy Podcast
Where experts debate the issues.