Find quick answers to your spectrum allocation and assignment questions
How many licensees are there in the 800 MHz band in Hungary? What is the most expensive $/MHz/POP price for the 700 MHz band in Asia-Pacific? Which EU member states have assigned the 26 GHz band?
Informed decisions make better decisions, but finding relevant information in spectrum management can be time-consuming and expensive.
For over ten years, PolicyTracker has made its database of spectrum allocations and assignments available through Google Sheets and Excel. We have now made our database accessible directly on our website to Spectrum Research Service subscribers.

This new capability makes finding specialised information easier than ever.
For example, a simple filter on our Current Assignments dataset reveals three 800 MHz band licensees in Hungary: Telekom, Telenor, and Vodafone.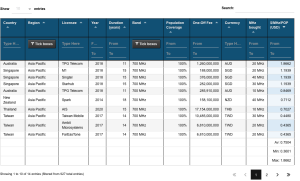 As for pricing for the 700 MHz band in Asia-Pacific, filtering and sorting our MHz/POP pricing dataset shows that TPG Telecom's 2018 purchase of 700 MHz band licences in Australia comprises the most expensive 700 MHz band acquisition in Asia-Pacific.
All queries can be downloaded as excel or csv files.
The interactive datasets are available to Spectrum Research Service subscribers here.