Auctions software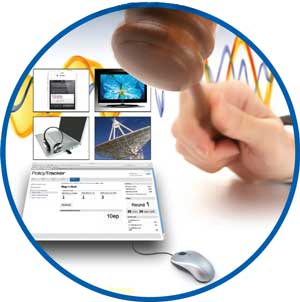 The PolicyTracker spectrum auctions software is a stable and user-friendly platform for conducting several types of commercial auction. It is intuitively designed, enabling users to set up and modify the following auction types:
Simultaneous Multiple Round Auctions
Ascending Clock Auctions
Ascending clock auctions with exit bids
The software
was used recently
by the Nigerian regulator, the NCC, to sell 2.3 GHz spectrum
User-friendly format
The auctioneer uses a simple drop-down menu to choose the preferred auction type. They can then specify who is allowed to bid, set the timings of the rounds and enter a starting price, price increment and eligibility point rating for each lot. There are no restrictions on the number of lots or bidders. The auctioneer can track the incoming bids in real time and halt or extend a round if necessary.
A simple bidder interface
Each bidder is presented with an intuitive and easy-to- use web page on which to make their bids. It shows the price of the lot in the current round and allows them to bid by simply entering a number or ticking a box. The software will automatically close the auction once bidding is complete.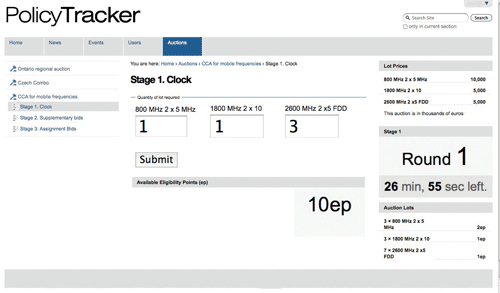 A secure and stable platform
The spectrum auctions software is based on a solid open source platform and has been exhaustively tested as well as used many times in PolicyTracker's
auctions training courses
. It can be hosted on your own servers as an intranet or internet service or we can host it for you. If running a commercial auction we would recommend the use of our additional "triple lock" security system which features:
user name and password identification
USB dongle security
IP address verification
Ideal solution for your spectrum auctions software needs
Our online auction service is designed for the sale of spectrum licences and offers the flexibility to deal with many different scenarios. ACAs are ideally suited for selling a small number of items, whereas SMRAs work best for selling larger numbers. Our software allows regulators to try out several different formats before using their preferred option to conduct the actual auction. The software can also be used by operators seeking to carry out their own mock auctions. For more information contact Martin Sims: martin [@] policytracker.com or +44(0)20 7100 2875.